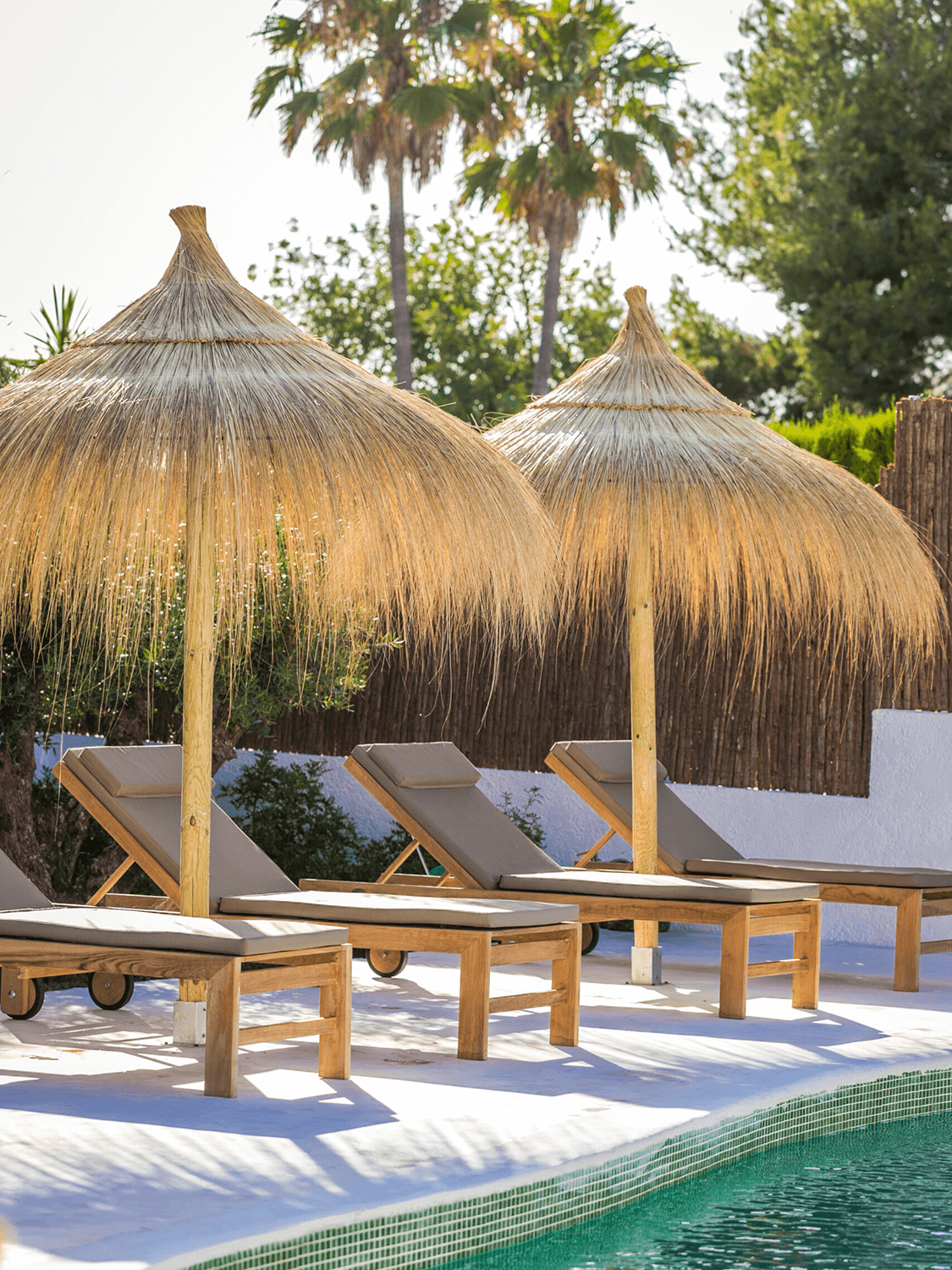 …one of the most beautiful and famous places on the Spanish coast: Javea, at the foot of the Montgó. Even better is that 'La Finca del Olivar' is here, a luxury villa that will make your stay in this beautiful area wonderfully relaxed, extremely comfortable and quite memorable! Because this is a 'finca' with a story.
Take a look
inside the villa
Authentic and Contemporary
The original, bold architectural style of Spain forms the basis of La Finca, which is surrounded by a garden with impressive olive trees. Robust and basic spaces and places: a lot refers to the small-scale olive oil production that once took place here — there is still a lot that can still be seen here!
Warm, contemporary elements have been added with flair to the pure base, making it a particularly atmospheric and luxurious environment. It is the combination of history and sophisticated, modern styling that will make your stay so special.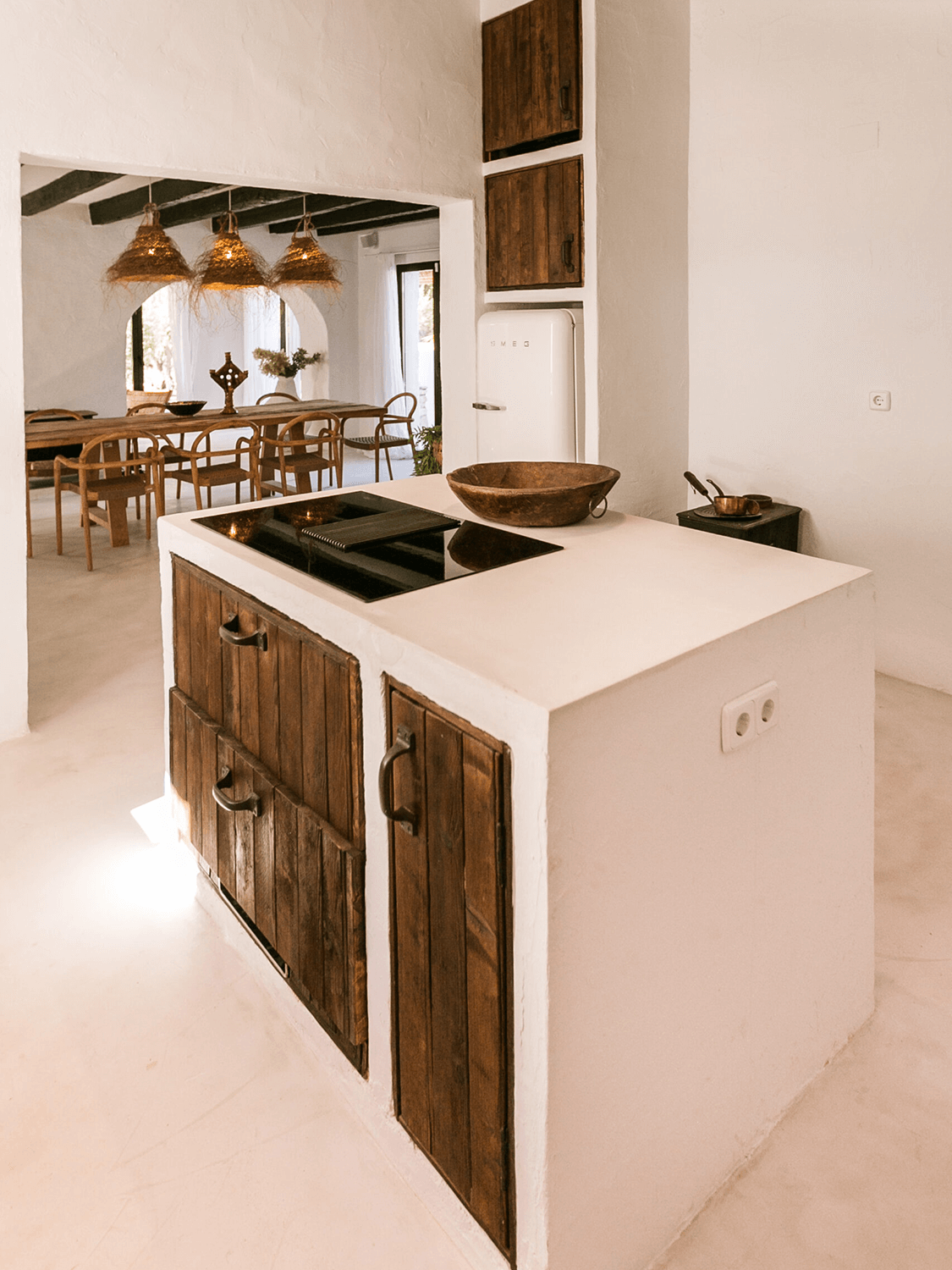 An old olive farm that has been converted into a luxury holiday villa with a great sense of style, that is La Finca del Olivar. There's room for 8 people who can use 4 bedrooms with luxury bed linen and bath products. You'll feel spoiled!
La Finca mixes authentic with modern, and is unique in its kind.
Read more about la finca
A Wonderful Outlook
Moreover, La Finca offers a beautiful, organic swimming pool, a hot tub from which you can look out over an illuminated olive grove in the evening while enjoying a cool Cava, plus a lovely outdoor shower, sunny terraces and shady spots. You'll have access to a well-equipped outdoor kitchen, digital television and Sonos equipment. All in all, the ultimate ingredients for a fantastic long weekend away or a superior holiday.
A warm bath, literally and figuratively: that is La Finca
Resting Point, Departure Point, Checkpoint
LaFinca is close to the centre of Javea, which makes visiting the historic town with its many shops, restaurants and tapas bars very easy. It is also the perfect location for various hiking or climbing trips and other excursions, after which you will enjoy returning to the tranquillity of LaFinca! You can completely relax there on the terrace or in the swimming pool.
Any stress will just melt away here: enjoy!
Welkom to La Finca del Olivar!
Our 'grand old' fig tree, more than 100 years old, welcomes you at the entrance of La Finca. The tree is set in a beautiful garden with Mediterranean plants, including a whimsically winding grape trunk. On the sun-drenched patio you'll find the old attributes of the olive oil production that took place here.
The authentic wooden front door gives access to an atmosphere that is so personal and comfortable that you immediately feel at home. Everything exudes comfort and attention to detail.
Read more about the layout
On the Ground Level
The olive production of yesteryear now contributes to the ambiance in large black-and-white photos, along with atmospheric elements that recall a bygone era. In the living room, this atmosphere is reinforced by robust oak furniture, interspersed with a soft, contemporary sofa to relax in after a day outside.
The walls are stuccoed and equipped with generous windows all around. Original Spanish lamps hang from the ceiling, with some Spanish stools and chairs on the polished concrete floor. The TV offers all Dutch channels, and Netflix is also available. You can play your favourite playlists on Sonos!
The kitchen is also fully equipped, including a large Smeg refrigerator. Here the walls still have the original niches, which contain special products from the region.
The two bedrooms on the ground floor, one of which is a box bed, are each suitable for two people. They share a nice bathroom. There is also a separate guest toilet.
On the Second Floor
In the pure style of the home, you will find the master bedroom, which has a wonderful atmosphere. What immediately stands out are the original, spacious wardrobe and the mosaic tiles of the floor. From the bed, provided with luxurious bed linen, you can look out onto the overwhelmingly beautiful mountain massif of the Montgó: each time offering a different kind of decor!
In the ensuite bathroom you'll find comfortable, modern sanitary facilities, soft towels and Marie Stella Maris bath products to enrich your holiday life.
Step out of your bedroom onto your private terrace, light the candles and admire the Spanish starry sky from the wooden hot tub…
The Terrace and the Outdoor Kitchen
You can relax outside in the hammocks that hang in the shade between the trees. Or enjoy your time after outings in the lounge, listen to your own music through outdoor speakers, take a dip in the brand-new swimming pool… And then go and make something delicious in the outdoor kitchen, where everyone can gather for a nice cold vino blanco with some tapas. In short: feel welcome in our Finca del Olivar!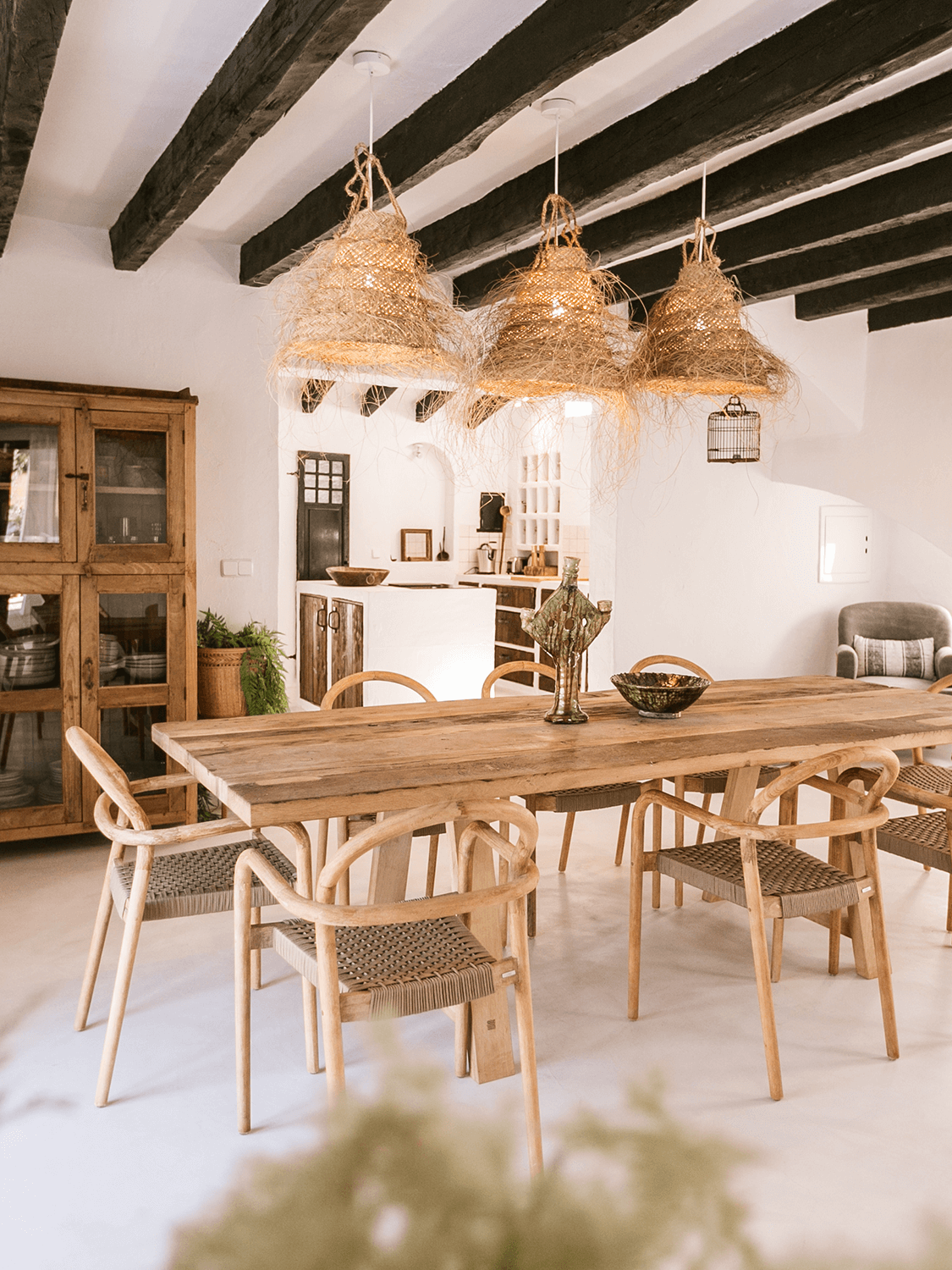 The Montgó dominates the horizon of Javea, and the whole area around it. In terms of climate as well, because thanks to this mountain it's Mediterranean mild all year round. As a result, the summers are pleasantly warm, while the winters are mild.
Around this 753 m high Montgó is a fantastic natural park. You can go on an adventurous walk there, but mountain climbing or mountain biking are among the real challenges of this area. In all cases, the various, beautiful caves of Montgó that you will encounter along the way are worth a visit.
Spacious suites located on ground level and the second floor suitable for 8 people.
Luxury beds with airy linen bedding
Nespresso equipment
Ensuite bathroom with a shower, toilet, sink and Marie-Stella-Maris personal care products
Laundry room with washing machine and dryer
Alarm
Breathtaking view of the Montgó
2 bedrooms, one with an ensuite bathroom on the ground floor. An extra bedroom and a box bed for the children. An extra bathroom and a guest toilet
Air conditioning,
Mosquito nets on the windows
Free Wi-Fi
Multiple TV Channels
Iron/ironing board
Sonos Sound System
Alarm
Breathtaking view of the Montgó
Saltwater Pool
Hot tub/Spa
Chill out areas
Outdoor kitchen
Outdoor shower
Fatboy beanbags
Luxury sunbeds including large umbrellas
Sonos Sound system outside in the lounge area
Gym including fitness equipment

Low season € 1,750 January, February, March, November and December.
Mid-season € 2,250 April, May, October.
High season € 3,125 June, September and Christmas.
The following applies to the above periods: flexible arrival day and a minimum stay of 5 nights, prices apply for the entire house per week.
Peak season € 3,925 July – August rental from Saturday to Saturday.
The hot tub/spa is heated!
Includes:
– Gas/water/electricity with a maximum of 225 kWH per week
– Bed and bath linen and towels
– Pool towels
– Wi-Fi
Final cleaning € 245.00
Availability
La Finca del Olivar
Check availability below and fill out the form to place your reservation.